Top level medicine with high-tech and heart
Around the clock, the hospital is by your side
Schoen Clinic Hamburg Eilbek
The Schoen Clinic Hamburg Eilbek is an academic teaching hospital of the University of Hamburg. We have achieved a national reputation for many years, particularly in the treatment of severe craniocerebral injuries and orthopaedic disorders in adults and children. Our internationally recognised experts offer you state-of-the-art medicine at the highest level in the beautiful Hanseatic city.
Our treatment in Orthopaedics & Spine
Back & Spine
Back pain is one of the common diseases in Germany. Their causes are often complex and very individual. In our specialist centre for spinal surgery ("Spine Centre") in Hamburg, our internationally renowned and experienced spinal specialists will accompany you through all phases of your treatment, whether surgical or conservative.
The Schoen Clinic Hamburg Eilbek is one of the leading facilities for spinal surgery in Germany. Special expertise distinguishes our Spinal Surgery Centre in the treatment of all degenerative diseases of the spine as well as injuries, tumours and inflammatory diseases (such as rheumatism or ankylosing spondylitis).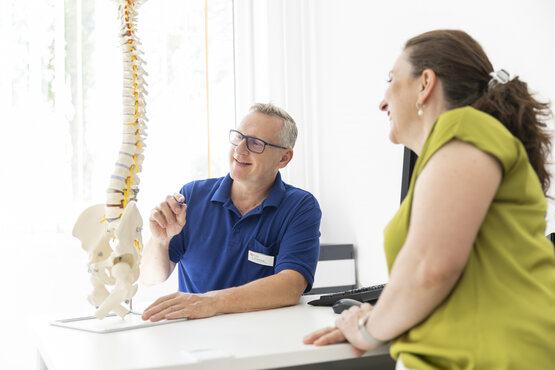 Our inter-departmental team of back specialists offers you the entire range of therapies: from detailed diagnostics and conservative treatment to state-of-the-art spinal surgery including neurosurgery to specialised physiotherapy before and after back surgery. Many of our highly qualified spine specialists are intensively involved in further developing treatment methods, thereby setting exceptional medical standards.
Foot & Ankle 
Our Department for Foot and Ankle Diseases in Hamburg Eilbek is one of the largest specialist hospitals in the Hanseatic city. Our experienced experts are familiar with the complex anatomy of feet as well as special treatment methods for foot pain and ankle discomfort. This has also been confirmed by most of our patients with pain or injuries to their feet, ankles or Achilles tendons, who are very satisfied with their therapy, whether conservative or surgical. Foot pain and foot injuries can occur for several reasons.
Our foot orthopaedics offers a comprehensive range of treatments from conservative therapy to foot surgery.
Whether treating severe foot injuries, deformities of the legs or degenerative diseases (osteoarthritis) of the foot and ankle – our foot specialists advise you individually during a special consultation to choose the optimal therapy for you.
Special expertise in cartilage reconstruction of foot and ankle, sports orthopaedics and diabetic foot surgery distinguishes us.
Hip
In our specialist centres in Hamburg, which specialise in hip injuries and diseases, our internationally experienced and scientifically active experts specialise in the surgical treatment of hip pain. Many patients from Germany and abroad rely on the expertise of our hip specialists every year. To treat your hip joint, we start off with an individual consultation in our clinic, as well as a detailed diagnosis.
If conservative measures are exhausted and do not provide you with enough alleviation from pain or mobility, a hip operation is the last method of choice.
Our hip specialists offer you the entire surgical range, from joint-preserving procedures to hip surgeries with joint replacement and complex replacement surgeries. In doing so, they use minimally invasive and soft tissue-friendly surgical procedures wherever possible. In addition, in our new state-of-the-art Surgery Centre in Hamburg, navigation devices for the precise and safe implantation of endoprostheses are also used in selected cases.
Knee
Knee pain can limit your mobility significantly. Whether your knee pain is due to severe knee injury or progressive wear of the knee joint, our knee specialists in Hamburg have many years of clinical and scientific expertise. They perform the entire range of knee operations, placing particular emphasis on gentle methods such as arthroscopic and soft tissue-friendly surgical procedures. In addition, digital assistants such as state-of-the-art navigation devices are used in the new Surgery Centre of the Schoen Clinic Hamburg Eilbek.
The Schoen Clinic Hamburg Eilbek is one of the leading facilities for treating diseases and injuries of the knee in the Hanseatic city.
Our knee specialists offer you individual and detailed advice during special consultation hours, as to whether knee surgery is necessary and if so, which one is required and best for you. The range extends from joint-preserving knee operations (arthroscopy, corrective osteotomies) to using or replacing an artificial knee joint. We mainly rely on minimally invasive surgical techniques.
Paediatric orthopaedics
Children's medicine with experience, competence and heart – this is what you can expect from our team of specialists in our paediatric orthopaedics department at the Schoen Clinic Hamburg Eilbek. From infants to almost adults, our paediatric orthopaedists treat a wide variety of paediatric diseases of the musculoskeletal system.
The paediatric orthopaedics department in Hamburg focuses on treating neuro-orthopaedic diseases, especially hip, knee and foot deformities. If conservative therapies such as physiotherapy and occupational therapy in combination with orthotic treatment do not help or do not help sufficiently, our experienced specialists in paediatric orthopaedics will carry out surgery on your child. For diagnostics, our paediatric orthopaedists have a state-of-the-art gait laboratory at their disposal.
The top medical competencies of our specialists in paediatric orthopaedics have also recently been confirmed by the magazine Focus-Gesundheit with our Chief Physician Dr Sebastian Senst receiving the award as a top physician for paediatric orthopaedics in Germany.
Shoulder
Our shoulder joints are extremely important in everyday life; pain in our shoulders and in our shoulder joints can therefore permanently restrict our mobility and quality of life. The shoulder experts at the Schoen Clinic Hamburg Eilbek have extensive experience in treating shoulder pain.
Our special expertise lies in treating shoulder complaints through surgery. Whether severe shoulder injuries or joint wear, our shoulder specialists will advise you in a special consultation and recommend an individual treatment method for your shoulder pain. If shoulder surgery is required, our shoulder experts will carry out surgery arthroscopically where possible, i.e., using the so-called keyhole technique.
If implantation of an artificial shoulder joint is required, then minimally invasive surgical procedures and state-of-the-art implants are used. In our various specialist centres, which specialise in shoulder injuries and diseases, you will receive top medical care.