Top level medicine directly on the Baltic Sea
We treat you from head to toe providing highly qualified therapies, including in our emergency room, 24 hours a day
Surgery at Schoen Clinic Neustadt
Abdomen, stomach, intestine
Complaints around the middle of the body can have a variety of causes and require specialists to give you optimal treatment, for example, for stomach pain, abdominal pain, liver diseases or intestinal diseases. At our Centre for Abdomen, Stomach and Intestines by the Baltic Sea, you are in the best hands as a patient: in addition to general surgeons, our inter-departmental team of specialists also includes experts for the organs in the abdomen (visceral surgeons), for the gastrointestinal tract (gastroenterologists) and the rectum (proctologists).
We have special expertise in treating gastrointestinal and tumour diseases through minimally invasive surgery. During specialised consultation hours, our experts sit down with you to find the optimal therapy for your abdominal, stomach and intestinal complaints. This also includes detailed and comprehensive diagnostics in cooperation with the radiology department.
CHIEF PHYSICIAN
Dr Christian Franke
Specialist for vascular surgery and specialist for GI tract and endocrine surgery
CHIEF PHYSICIAN
Professor Dr Philipp Hildebrand
Specialist for general surgery, for GI tract surgery, for special GI tract surgery and for vascular surgery, endovascular surgeon
Lungs & Breathing
The treatment of pneumonia, chronic obstructive pulmonary disease (COPD) or lung cancer belongs in the hands of specialists. Because these medical conditions are serious illnesses. Injuries to the thorax caused by accidents, such as serial rib fractures and sternum fractures, should be diagnosed and treated in a hospital with a professional and experienced team. This includes both preparation for surgical care with joint follow-up treatment and joint action without surgery, i.e., conservative treatment. At the Schoen Clinic Neustadt, the departments of trauma surgery, pulmonary medicine (pneumology) and thoracic surgery work hand in hand.
The same applies to diagnosing and treating funnel chest and pigeon breast.
Our experts in the department for lungs and respiratory illnesses have many years of experience and expertise to treat you competently.
Symptoms like a mild cough do not have to worry you immediately. However, if it persists for more than four weeks, further examinations are necessary. Patients suffering from a lung disease like asthma should not resort to home remedies, but should consult a pulmonologist. Pneumonia is also a common and serious lung disease, which must be properly treated using the correct medication. In the worst case, an untreated infection can lead to pleural suppuration (pleural empyema), which must then be treated surgically.
Our experienced specialists for diseases and injuries to the lungs care for and treat your complaints individually and on the basis of a careful diagnosis.
CHIEF PHYSICIAN
Professor Dr Philipp Hildebrand
Specialist for general surgery, for GI tract surgery, for special GI tract surgery and for vascular surgery, endovascular surgeon
Metabolism
Metabolic diseases and diseases of the kidneys or pancreas are serious health problems that should be treated by experts. In our specialist centres that focus on metabolism and glands, we combine expertise from surgery and internal medicine.
Our team consists of experienced specialists from various disciplines: internists, general and visceral surgeons as well as other experts, for example, from the oncology and radiology departments, work together inter-departmentally. Together they take care of your individual complaints. Whether you suffer from kidney pain, pancreatic or metabolic diseases, our team of experts will treat you according to the latest medical therapy standards.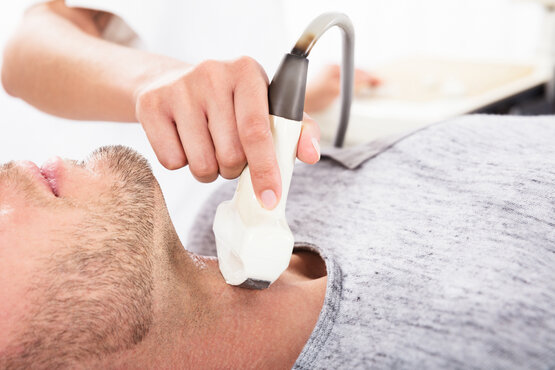 Vessels & Heart
With cardiac or vascular diseases, our clinic in southeastern Schleswig-Holstein treats you with an internationally experienced medical team from the areas of internal medicine, cardiology, vascular surgery, neurology, radiology and neuroradiology. The cardiology and vascular surgery departments work together closely with all other relevant specialist departments. As a patient, you benefit from the pooled expertise of our cardiovascular specialists, who take care of your complaints together, with state-of-the-art medical equipment and the latest therapy standards. In addition to severe cardiological conditions, such as myocardial infarction and pulmonary artery embolism, we specialise in treating chronic heart diseases.
Chronic heart diseases include, for example, cardiac insufficiency and cardiovascular diseases such as high blood pressure and cardiac arrhythmias. Vascular diseases such as the narrowing or occlusions of peripheral arteries (carotid arteries, pelvic arteries or leg arteries) or vascular aneurysms are our second main focus area. Here by the Baltic Sea, we offer you the entire range of modern conservative, interventional and surgical therapies for vascular diseases. Our patients with non-severe heart and vascular diseases come to us not only from the Ostholstein region but also, for example, from Hamburg, Lübeck or Kiel.