Top-level medicine directly on the Baltic Sea
We treat you from head to toe providing highly qualified therapies, including in our emergency room, 24 hours a day
Schoen Clinic Neustadt
Our specialist clinic on the Baltic Sea offers you all-round care under one roof. From orthopaedics to neurology and internal medicine, we are a regional specialist provider. We have special expertise in the treatment of scoliosis in children. Our internationally recognised specialists take care of your child's health sensitively and with a high level of competence.
Our treatment in Orthopaedics & Spine
Back & Spine
The Schoen Clinic Neustadt's specialist centres, which specialise in spine diseases and injuries, are among the top facilities for treating back pain, both nationally and internationally. Whether you are suffering from low back pain due to injuries, instabilities, deformities or signs of wear – our experienced spinal column specialists by the Baltic Sea will provide you with individual and holistic support on the basis of thorough diagnostics using state-of-the-art and partly Nobel Prize-winning medical devices.
With more than 300 patients treated each year, our specialised Scoliosis Centre is one of the largest and most experienced facilities for this disease in Germany. Our spinal surgery department also offers special expertise in treating neurosurgical diseases and inflammatory diseases of the spine.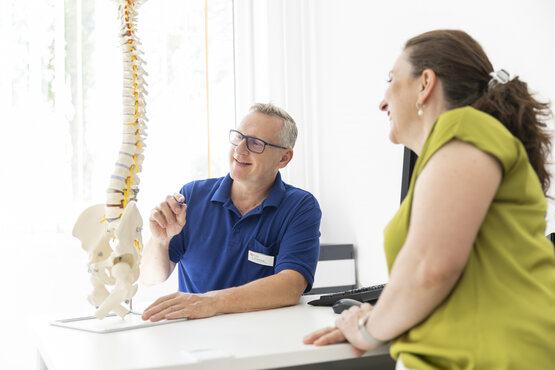 Our spinal specialists for Neustadt, Kiel and Lübeck can often help you with back pain without spinal surgery. However, if a surgical procedure is necessary, they use gentle minimally invasive procedures wherever possible.
Foot & Ankle 
At the Schoen Clinic Neustadt by the Baltic Sea, a specialised team of experienced orthopaedists, trauma surgeons, vascular surgeons and rehabilitation experts treat all foot and ankle diseases – from severe, accident-related foot injuries to wear-related and chronic foot pain.
Foot pain often has a variety of causes that require detailed clarification and diagnosis. During a special consultation on your foot, our specialists for feet and ankles will examine your symptoms – for the best possible therapy for you. This can range from conservative treatments to foot surgery or ankle surgery.
The comprehensive range of treatments offered by our experts also includes joint-preserving surgery on foot and ankle using modern cartilage therapy. Special expertise also distinguishes us in sports and trauma orthopaedics, diabetic foot surgery and rehabilitation.
Hand
Whether severe hand injury or chronic hand or finger pain due to osteoarthritis: especially with surgery, treatment should be individually tailored and carried out by experienced specialists in order to optimally restore or maintain the functionality of the complexly reconstructed hand and its joints. Our experts at the Schoen Clinic Neustadt near Lübeck are specialised in diagnosing and treating hands, fingers and hand surgery.
Our highly specialist team for hand surgeries can look back on years of clinical experience and offers you top-notch medical care.
Our hand surgeons treat patients with diseases of the hand, fingers and all corresponding joints and use microsurgical procedures where possible. Another priority area of our clinic is plastic-reconstructive hand surgery: our doctors restore the function and shape of hands, including any affected joints, through surgery. These reconstructive methods are used, for example, after hand injuries caused by accidents, inflammatory-degenerative diseases or tumours, chronic wounds or changes due to rheumatism.
Hip
Hip pain can significantly reduce your quality of life. A common cause is progressive joint wear (osteoarthritis). Our nationally and internationally renowned hip experts are specialised in the surgical treatment of hip joint pain at our specialist centres directly by the Baltic Sea, which specialise in hip diseases and injuries. Patients from Germany and abroad rely on the expertise of our orthopaedic hip surgeons, who also enjoy wide recognition in scientific circles. We offer individual and detailed advice during consultation hours at the beginning of your treatment.
Hip surgery is necessary if conservative measures are exhausted and do not provide you with sufficient analgesia and mobility. In our specialist centres for hip injuries and diseases, our hip specialists offer you the entire surgical range, including the implantation of an artificial hip joint (hip TEP) and complex replacement surgeries. In most cases, minimally invasive and soft-tissue-friendly surgical procedures are used. You can complete your rehabilitation with us directly afterwards.
Knee
Knee pain and knee joint pain can significantly limit your everyday life, whether at work or in your free time. The Schoen Clinic Neustadt between Kiel and Lübeck is one of the leading institutions in Germany for treating knee pain. Our knee specialists have decades of clinical experience and scientific expertise in dealing with knee pain. Whether these be due to a severe injury or progressive wear (osteoarthritis): our knee orthopaedists always offer you therapy according to the latest medical standards and discuss with you which treatment is best for you.
Should knee surgery be necessary, minimally invasive and arthroscopic as well as soft tissue-gentle and bone-saving surgical procedures are used wherever possible. The surgical spectrum includes joint-preserving knee surgery (ligament surgery, corrective osteotomy, cartilage therapy), modern procedures for repairing bone fractures, as well as joint replacements and rehabilitation.
Shoulder
Shoulder pain or shoulder injuries can limit the function and mobility of this important joint, therefore having a lasting negative impact on your quality of life. At the Schoen Clinic Neustadt directly by the Baltic Sea, our renowned shoulder specialists treat you according to the latest scientific findings.
Our shoulder specialists are distinguished by their special expertise in treating shoulder problems through surgery – whether severe shoulder injuries or chronic shoulder pain, our shoulder specialists for Neustadt, Kiel and Lübeck will give you advice during a special consultation hour on how to best treat your specific shoulder problems. If shoulder surgery is necessary, our shoulder specialists operate arthroscopically where possible and partly with computer-assisted devices for navigation surgery.
The gentle minimally invasive keyhole techniques are also used for joint replacement shoulder surgery. We guarantee that you will receive top medical care in our department for treating diseases and injuries to shoulders.