Excellent treatment with a view of the Rhine
We offer a broad medical spectrum at the highest level
Schoen Clinic Düsseldorf
The Schoen Clinic Düsseldorf is the only clinic on the left side of the city and specialized in surgery, orthopedics and internal medicine. More than 500 employees provide the highest level of care which is awarded by various institutions (e.g. German Spine Society). Our interdisciplinary emergency room is the first point of contact for emergencies of all kinds.
Our treatment in Orthopaedics & Spine
Back & Spine
Back problems and pain in the spine are individual and complex – and almost everyone has experienced them. Sometimes you feel it pinching a bit for only a few days, but sometimes you can develop serious back problems that require spinal surgery. Often the pain does not have a specific cause, but is related to many different factors. With their holistic therapeutic approach, our doctors specialise in finding and understanding these causes for each patient individually.
Our spine specialists at the Schoen Clinic Düsseldorf have many years of experience in treating back problems. We offer you the entire range of spine therapy: from conservative care to spinal surgery, including minimally invasive procedures, to special treatment methods, such as implanting a pain pacemaker for chronic pain.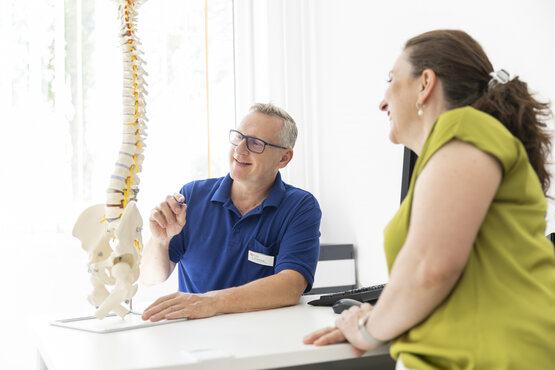 Regardless of which back problems you come to our clinic with, we are the right contact for you. Besides, our specialists are happy to help you if you wish to get a second opinion before spinal surgery.
CHIEF PHYSICIAN
Dr Lars Löhrer
Specialist in orthopedics and trauma surgery, special orthopedic surgery
Foot & Ankle 
Our feet carry us our entire lives. Once they are injured or sick or start hurting, everyday life becomes significantly restricted. At the Schoen Clinic Düsseldorf, our foot specialists work every day to treat your foot or ankle pain and injuries as best as they can.
The causes of pain and injuries to feet and ankles are multi-factorial. Whether congenital or acquired deformities such as hallux valgus, injuries to ligaments or Achilles tendons, fractures or degenerative joint wear (osteoarthritis) – our foot specialists will examine and advise you comprehensively. Together we will find the right treatment method for you and your complaints. We will first try out all conservative therapy options where possible and only recommend surgery if it is really necessary.
Hip
The hip joint is the second-largest joint humans have after the knee. Together with pelvic and thigh bones, our hip joints help us walk. Do you find it difficult to walk because you are affected by hip joint pain? Did you injure your hip joint in an accident? Then you are at the right place with us. Our hip specialists at the Schön Clinic Düsseldorf will treat any acute or chronic hip diseases and injuries you may have. We offer you the entire range of treatments. From conservative and surgical joint-preserving measures to the minimally invasive, soft-tissue-friendly use of hip prostheses (hip-TEP) to complex revision surgeries (hip-TEP change) and the treatment of periprosthetic fractures (fracture of a bone in which a prosthesis is already positioned).
Comprehensive diagnostics and giving you personal advice on all therapy options – conservative and, if necessary, surgical – are our top priority. Our goal is to allow you to move around again without pain. For this, orthopaedists, nurses and therapists work hand in hand.
Knee
We move our knee joints several hundred times every single day. Not only do we expect them to deal with considerable strain when doing sports, but they have to function all the time, day in, day out. This daily stress can damage your knee joints: the cartilages wear out, the bones rub against each other, and then you have knee pain and joint wear (osteoarthritis). However, severe injuries to knees also occur frequently. They are often caused by sports accidents and traumatic events. Twisting your knee when jogging, falling down when skiing or being fouled when playing football: Meniscus damage or cruciate ligament rupture can be a result of this.
In the Schoen Clinic Düsseldorf, we specialise in treating your knee quickly and effectively after accidents or sports injuries. Our inter-departmental emergency department, our trauma surgery as well as our department for shoulder, elbow, knee and sports orthopaedics and the certified Endoprosthetics Centre work hand in hand. Another priority area of our work is the minimally invasive use of knee-part prostheses for treating cartilage damage up to complete knee prostheses in the event of major damage or joint arthrosis as well as the replacement of worn prostheses.
Our knee specialists work every day to allow you to enjoy a physically active and independent everyday life without pain: with the help of state-of-the-art and thorough diagnostics, gentle surgical methods and a therapy plan tailored to your individual needs.
CHIEF PHYSICIAN
Professor Dr Thilo Patzer
Specialist in orthopedics and trauma surgery
Special orthopedic surgery
Sports medicine - manual therapy
Special X-ray diagnostics-skeleton
Certified for shoulder-elbow surgery (DVSE)
Certified Arthroscopy Instructor (AGA)
Shoulder
Your shoulder joint has a special meaning for physical and sporting activities: it connects the arm with the torso and is therefore used in everyday life all the time. If even putting on a jacket gives you shoulder pain, then your quality of life will be severely limited. Our shoulder specialists are here for you: we will help you get back your quality of life.
Our orthopaedists in Düsseldorf are experts in treating shoulder pain and shoulder complaints. They specialise in the conservative and surgical treatment of signs of wear (osteoarthritis in shoulder joints), but also severe injuries and overstrained shoulder joints, especially among athletes.
First of all, they exploit all possible conservative, i.e., non-operative, measures. If these do not sufficiently reduce your shoulder complaints, we will discuss the possibility of shoulder surgery with you, and if necessary, also with a shoulder prosthesis. At the same time, you will be treated by our physiotherapists, who will work with our doctors to draw up a special training plan for you. You as a patient are most important to us: restoring your quality of life is our goal.