Highest level of medical expertise on the edge of the Alps
Your Leading Clinic for Neurology and Orthopaedics
Schoen Clinic Bad Aibling Harthausen
The Schoen Clinic Bad Aibling Harthausen is located on the edge of the Alps near Rosenheim. Our clinic specialises in the fields of orthopaedics and neurological rehabilitation. You will receive a wide range of highly qualified and interdisciplinary medical care. In our specialist clinic, we provide you with state-of-the-art treatment methods with specialised orthopaedic and neurological expertise at the highest level.
Our treatment in Orthopaedics & Spine
Back & Spine
The causes of back or neck pain are multi-factorial. Therefore, you should consult a specialist physician at an early stage for a reliable diagnosis and holistic therapy. Ideally, you should seek help before your pain becomes chronic. In order to prevent chronification, we rely on our many years of experience, a highly specialised, interdisciplinary team of doctors and gentle procedures in Bad Aibling, about 50 kilometres southeast of Munich.
Our Centre for Spinal Surgery is the leading point of contact for back and neck complaints in the Munich-Rosenheim region. Our doctors are particularly specialised in disc herniations, deformations of the spine, fractures of the vertebral bodies, revisions and complex spinal diseases of older people.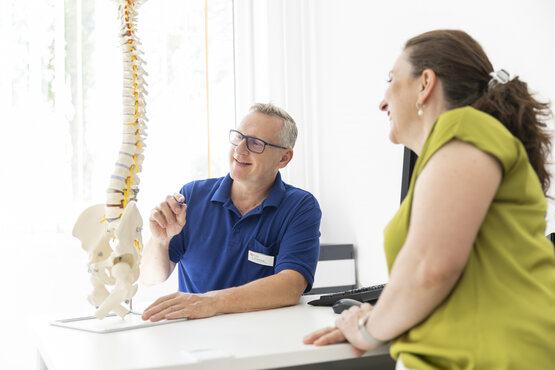 In addition to our expertise in spinal surgery, we also focus on conservative therapies – especially pain therapy. And if you need immediate help, our emergency care team will gladly help you. In addition, we offer orthopaedic rehabilitation and a day clinic for treating chronic pain of outpatients.
Foot & Ankle 
Our feet carry us our entire lives – so it is all the more important to keep them healthy. However, if you have pain every step you take, there may be many reasons for this.
You often do not have pain at the affected spot. It is often triggered by incorrect load distribution, which happens as a result of complaints in other areas of the body. Therefore, for example, an unstable ankle joint can make you put too much load on the outer edge of your foot. We get to the bottom of these inconspicuous connections. But you are also in the right hands with foot deformities, sports injuries, osteoarthritis in the ankle joint or an injured Achilles tendon.
When treating your symptoms, our ankle and foot orthopaedists together with physical physicians rely on gentle and alleviating therapy methods. We only consider surgery when conservative options do not help. Numerous patients rely on our foot specialists' expertise and wealth of experience.
Hip
In case of pain in the hip or in the hip joint, you are in good hands in our Joint Centre: whether severe or chronic hip pain, our experienced and renowned orthopaedic surgeons for hips treat your symptoms individually and with the optimal therapy you need.
Our unique expertise lies in the area of minimally invasive and arthroscopic hip joint operations, including the implantation of an artificial hip joint or joint-preserving, corrective osteotomy on the pelvis. The advantage you have: because we preserve as much bone and muscle tissue as possible on your hip, you will have less pain and can get back on your feet again quicker.
By the way, we were the first clinic in Germany to implant a hip joint through minimally invasive surgery. In addition, our orthopaedics department specialises in sports injuries.
Our hip specialists work closely with our Centre for Pain Medicine, so we can also provide optimal care for chronic hip pain. After a hip joint operation, you can also seamlessly follow up with orthopaedic outpatient rehabilitation.
Knee
Do pain in your knee, knee joint or kneecap limit your mobility? Do you have a knee injury and do not know if or what kind of knee surgery is required? Then come to our specialists at the Schoen Clinic Bad Aibling Harthausen and benefit from the expertise and extensive experience of our renowned knee orthopaedists.
We perform the entire range of knee surgeries in our Joint Centre. Our specialists have unique expertise in joint-preserving knee operations (even after sports injuries), cruciate ligament reconstructions, corrective osteotomies of knees and knee joints as well as artificial partial or complete knee joint replacements (endoprosthetics).
We mainly use gentle, arthroscopic and minimally invasive surgical procedures. Directly after a knee operation, you can undergo rehabilitation as an outpatient.
Shoulder
Combing your hair or reaching for a plate on the top kitchen shelf – when these kinds of everyday activities can only be carried out with shoulder pain, then you could have a serious illness of this important and extremely complex joint. The causes of discomfort in shoulder joints are multi-factorial: injuries during sport, problems due to stress or even joint wear (osteoarthritis) can be possible causes.Our experienced shoulder specialists will do everything they can to alleviate your pain in order to give you back your quality of life. That's why we create a specially tailored, innovative and inter-departmental therapy plan to get your shoulder fit again for everyday activities.
Whether conservative therapy or surgical procedures – the Schoen Clinic Bad Aibling Harthausen offers you an entire range of treatments.